6. THE BALLAD OF ROMEO AND JULIET, PART TWO
…Where civil blood makes civil hands unclean.
During my third year of graduate school, I was lucky enough to assistant direct Mary Zimmerman's Guys and Dolls at the Oregon Shakespeare Festival and one of the perks of working there is a chance to do what they call a Midnight Project. Basically, the theatre gives you the support and space to create something and the actors from the world class ensemble give their time. I knew immediately what I wanted: finally give voice to The Ballad of Romeo and Juliet. Now, I talked myself in and out of doing this reading probably around thirty times, but as with most ventures I end up doing, I did it because I couldn't not do it. And, as with most of these kind of ventures, I am so glad I did. The long and short of it is I got a cast of brilliant actors together (including my wife) who gave an attempt at the Appalachian (some more successful than others) while I basically DJ'd the interspersed music (while also reading the smaller characters). Oh, and there was an audience there for us, including the company's dramaturg Lue Douthit, who I see as the beating heart of that theatre. The experience was a blast, but the feedback was priceless. My cut made a huge jump in evolution, my double casting ideas were justified, but the biggest feedback I received revolved around the music. It was clear that the more modern pieces were placeholders and that there needed to be even more of it weaving throughout. The following week, during long days of tech where my main job was keeping Mary's dog, Andy, off the stage and out of the sound booth, I developed the idea of a Ballad, sung by the characters as a confessional device and woven throughout the play. I hit save and drove back to Chicago to finish my final quarter of grad school. The Ballad went back on the shelf.
Flash forward to the winter of 2015. With the graduate school in the rearview mirror, I was trying to figure out what in the hell was in front of me by applying to every fellowship, grant, job, you name it, that I could find. One of these was for Chicago's DCASE Individual Artist grant and my pitch was to develop the music and dialect for The Ballad and then showcase it for potential producers in Chicago. Nothing came of it or any of the other applications, the theatre company that I had been with for 13 seasons closed its doors, and I was doing some deep soul searching and serious thesis writing. The result was the decision that led me here to Asheville and my ambition to start the AMC. Now, of course, once that decision was made, I received an email from DCASE that I had been awarded the grant. After the requisite talking myself in and out of it thirty times, I contacted my friend and brilliant composer, Elizabeth Bagby. I figured if she was game, I would do it. She was and we did.
Over the course of the next few months, we met and she wrote the Ballad as I had conceived it at OSF, an accompanying score, and put together a trio of her on guitar, a banjo player and a fiddler to play for the staged reading. In the meantime, I was busy getting together my favorite Chicago actors, Caitlin back on costumes, and a spectacular dialect coach for one last ride before the big move. Once again, the piece made an incredible leap. The music Liz wrote was achingly gorgeous (listen to a few samples below), the dialect work was a revelation that actually made the poetry clearer, but the biggest personal discovery, oddly, was in the staging. By being restricted in what we could accomplish in a reading, I realized how little I needed to stage it in a full production. What we came up with around music stands and a circular strand of Christmas lights enhanced the ritualistic nature that I find inherent in my idea of Myth. Throw out the balcony, keep your walls, and use the tomb in some other play. Give me a circle of dirt and an audience around it and I will give you The Ballad of Romeo and Juliet.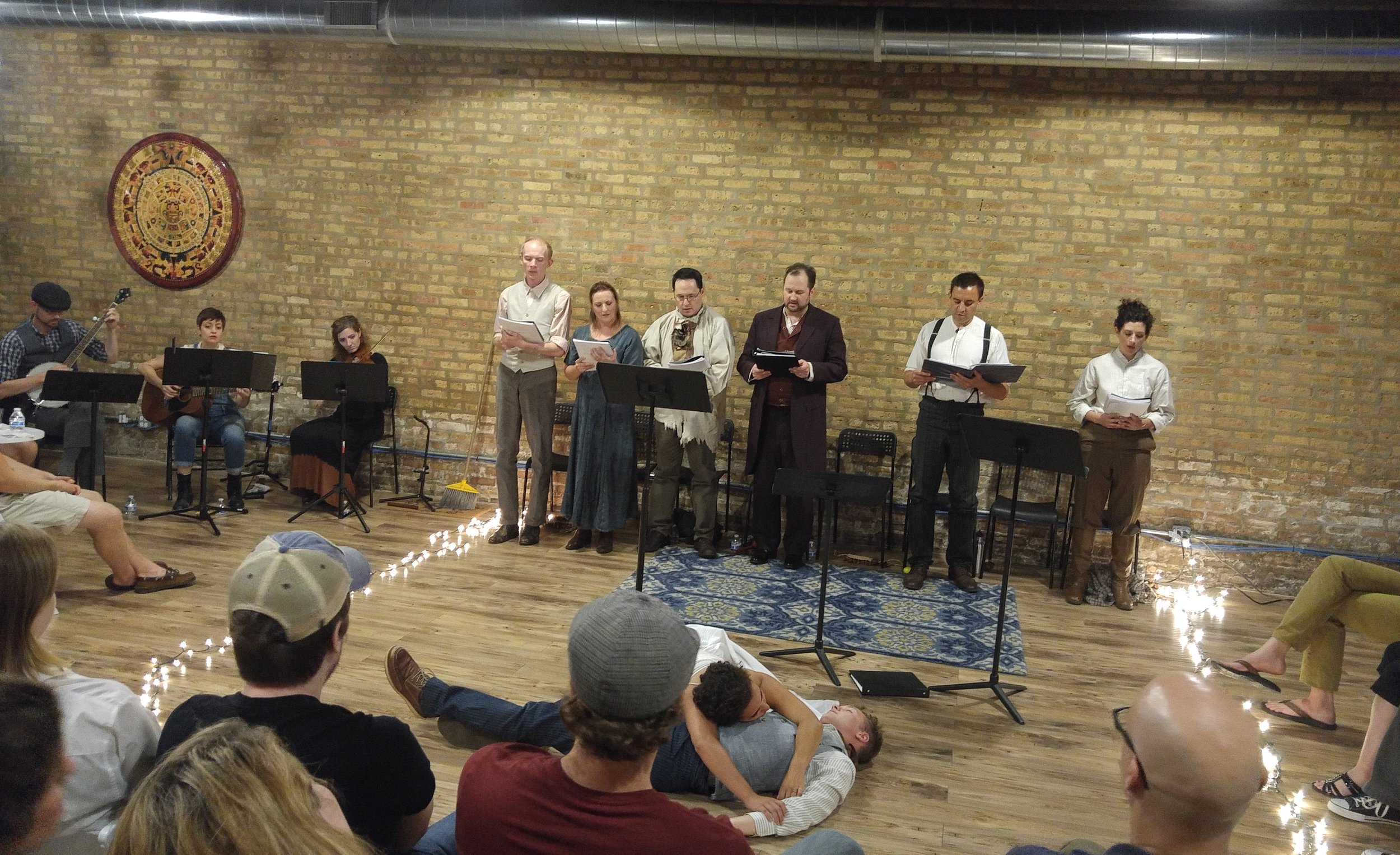 The following pieces were recorded in rehearsal and performance. The Ballad pieces were written and composed by Elizabeth Bagby. Reynardine is an old song made new by Aurora Real De Asua and Satan Your Kingdom Must Come Down was written long ago and newly composed here by Elizabeth Bagby.
For an excerpt of the Balcony Scene, please go HERE.